Bougatsa Al a Mode at Serea Coastal Cuisine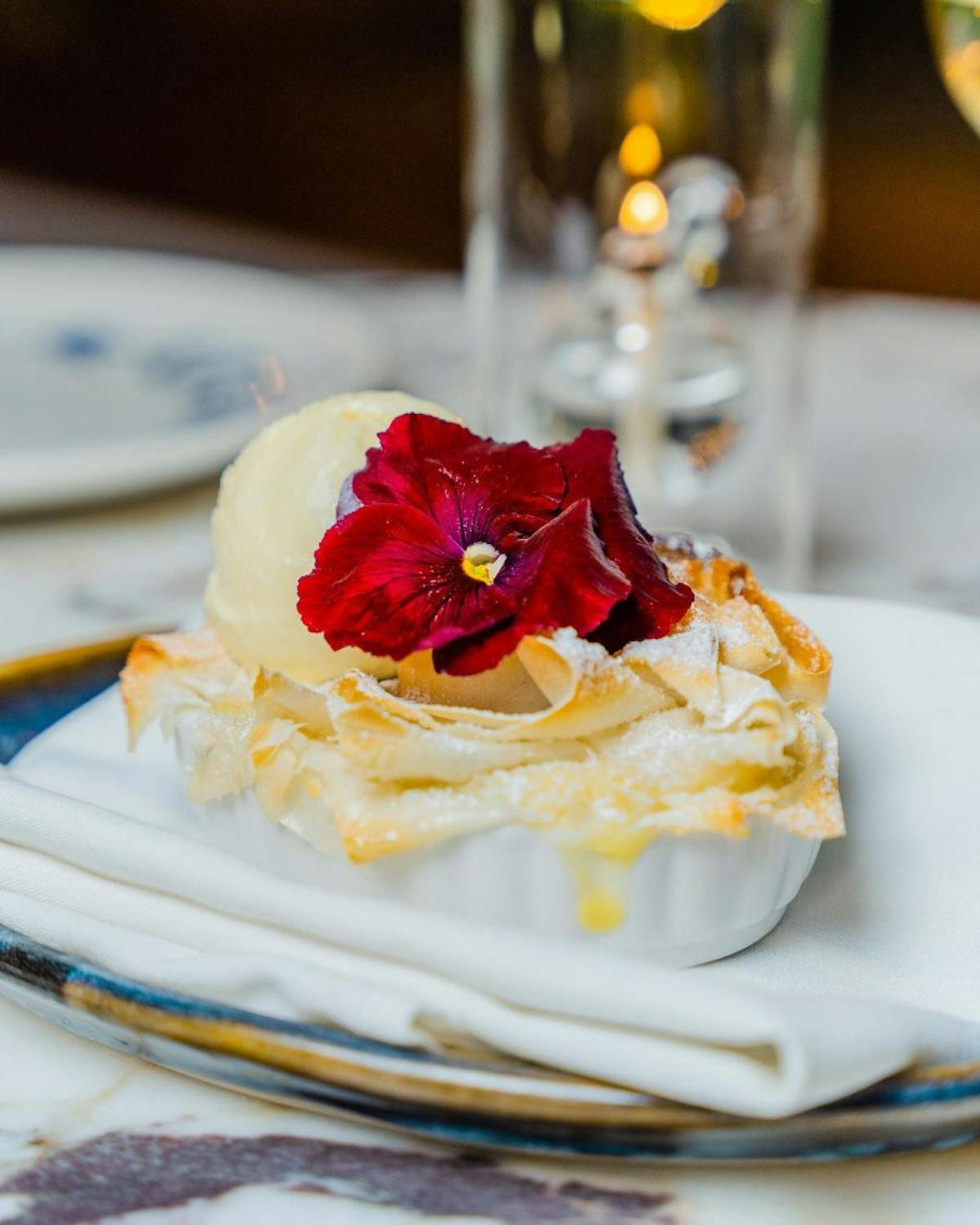 Sometimes you just have to save room for something sweet. Even if you're at the finest San Diego Seafood restaurant! While our main features come in the form of sashimi, shellfish, tableside fish, and all those other goodies from the ocean, you better believe that our chefs are whipping up some amazing post-dinner treats in the kitchen. What we're trying to tell you in so many words is that you've gotta save room for dessert.
So stay a while, and indulge in the finest desserts with a seaside view. Or if you're too full from the main course, consider coming back for a desserts only kind of date.
THE DESSERTS
Bougatsa Al A Mode – Vanilla pastry cream, orange honey, medjool dates, caramelized phyllo, vanilla ice cream
Coconut Panna Cotta – Coconut cake, guava coulis, guava glass, coconut sand
Pearl Diver – Apple compote, caramelized oats, toasted white chocolate mousse, caramel, white chocolate shell
Message in a Bottle Sundae – Salted caramel ice cream, Ibarra chocolate sauce, salted caramel sauce, walnuts, phyllo sails, vanilla whip
Seasonal Ice Creams & Sorbet Selection – be sure to ask your server what flavors are available!
OR PERHAPS YOU'RE LOOKING FOR A NIGHTCAP?
We understand that not everybody has a sweet tooth, so if you're looking to end the evening with something rich to sip on, then we'd suggest looking at our Dessert Wine, Port & Tawny menu for some savory sips.
Sparkling Wine, Vietta Cascinetta, Moscato D'Asti
Port, Grahams Vintage, 1994
Tawny, Taylor 20
Icewine, Inniskillin, Vidal, Canada
Or if you just want something warm, then we'll gladly pour you some coffee or pull a shot of espresso for your enjoyment.
COME FOR THE SEA, STAY FOR THE SWEETS
Not every San Diego Seafood restaurant does dessert like we do, so if you're looking to stop in to end your day, or for a sweet conclusion to your already hearty San Diego seafood dinner, then Serea is the destination for you! Reserve a table today, and see what all the fuss is about!
ABOUT SẼREA
Serẽa is proud to bring an exquisite sea-to-table dining experience to San Diego in a comfortable yet sophisticated setting.
Located just steps from the beach in the legendary Hotel del Coronado, the restaurant's key focus is the bounty of the sea. The menu focuses on sustainable seafood, with a coastal cuisine menu that spotlights the best of the region's oceans, farms and fields, ranging from the California Coast down to the Baja Peninsula.
Creative cuisine with a global flair is prepared by San Diego's own Chef Jojo Ruiz, who creates elegant, fresh dishes with just a hint of Mediterranean flair.
Find us on Facebook and Instagram!