Have You Tried Our Ice Cold Shellfish Platter?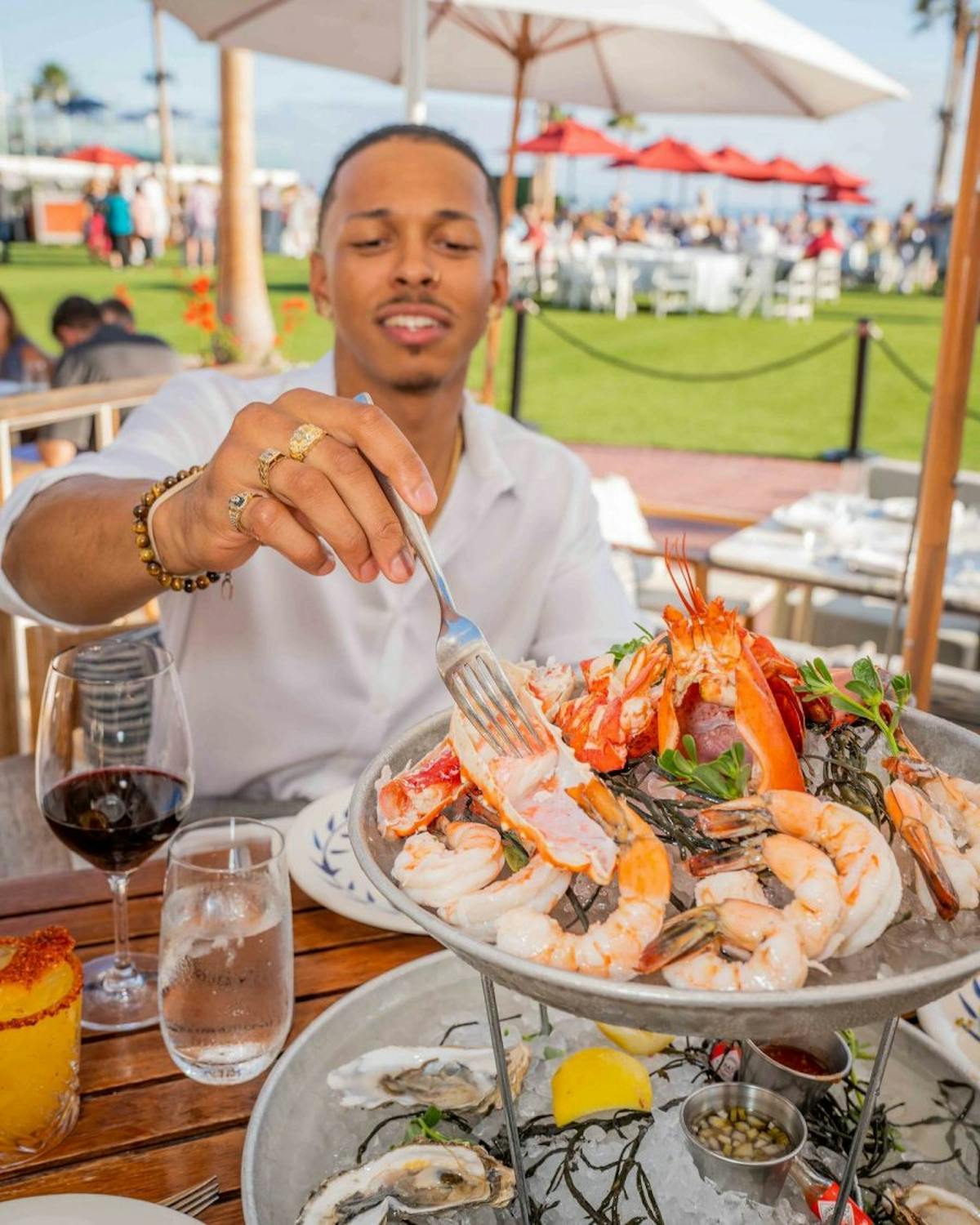 Decisions are hard to make. Especially when you're in San Diego, and there's so much amazing seafood to choose from. Do you want oysters or lobsters? Seasonal crab, or shrimp? It's so hard to choose that going out for seafood can sometimes seem like a chore. But what if it didn't have to be? Did you know that we offer a seafood tower that gives you the luxury of not having to choose? Let's get right into it.
THE TOWER!
Our seafood tower can be ordered individually or for the table in both "petite" and "grande" sizes. While sometimes the catch changes, we are currently offering a mix of east, west & baja oysters, mexican blue shrimp, Maine lobster, and seasonal crab. If that's not enough to get your mouth watering, we also offer our towers iced cold or wood roasted. Whether you enjoy the satisfying snap of biting into the sea, or the warm embrace of savory smokiness, we can hook you up.
TOO COLD FOR ME, WHAT IF I'M ALL ABOUT BRINGING THE HEAT?
You're in luck because our seafood tower can also be wood roasted to really lock in the heat and flavor. It's amazing how temperature can bring out so many different flavor profiles for you to enjoy! Or if you're feeling bold and you're in the mood to share, get one of each for the table! There's no right or wrong way to enjoy a shellfish platter!
GOOD COMPANY, GREAT EATS… WHAT ABOUT THE DRINKS?
Our specialty craft cocktails go great with our seafood tower, and our menu boasts an intimidating variety of wines, spirits, and beers.
Specialty Cocktails
Del Sol – Jalapeno infused casamigos blanco, cointreau, mango, lime, chamoy +, tajin
Lei Low – plantation pineapple rum, solerno, orgeat, lime juice, guava foam
Orange you glad – grey goose l'orange, solerno, chamomile, lemon, blood orange bitters
Fair weather – Mint infused rabbit hole rye, rhubarb, lime, soda
What's up doc – Jaja Blanco, el silencio, blood orange, cranberry, cinnamon sugar
Marine Layer – El Silencio mezcal, cointreau, coconut, lime, blackberries
Windsor – Jaja blanco, midori, honeydew, kiwi, lime
La Rubia – Absolut citron, limoncello, cucumber, lime, tonic
Fuga Del – Beluga Platinum Vodka, Chambord, Hibiscus, Lemon, Dom Perignon. Served With A Bump Of Caviar
WHAT ARE YOU WAITING FOR?
If all of the above sounds like a good time, then you better grab a table, and soon! Reservations are not required, but they are encouraged. Hey, it's not our fault tables fill up fast. You can say it's the food, the coastal view, the drinks, or the excellent service. If you say that, we'll agree with you! If you're a San Diego resident looking for some great seafood, or just passing through, we're glad to serve you some of the best seafood you've ever tasted.
ABOUT SẼREA
Serẽa is proud to bring an exquisite San Diego Seafood experience in a comfortable yet sophisticated setting.
Located just steps from the beach in the legendary Hotel del Coronado, the restaurant's key focus is the bounty of the sea. The menu focuses on sustainable seafood, with a coastal cuisine menu that spotlights the best of the region's oceans, farms and fields, ranging from the California Coast down to the Baja Peninsula.
Creative cuisine with a global flair is prepared by San Diego's own Chef Jojo Ruiz, who creates elegant, fresh dishes with just a hint of Mediterranean flair.
Find us on Facebook, Instagram, and Twitter!