Tableside Fish at Serea Coastal Cusine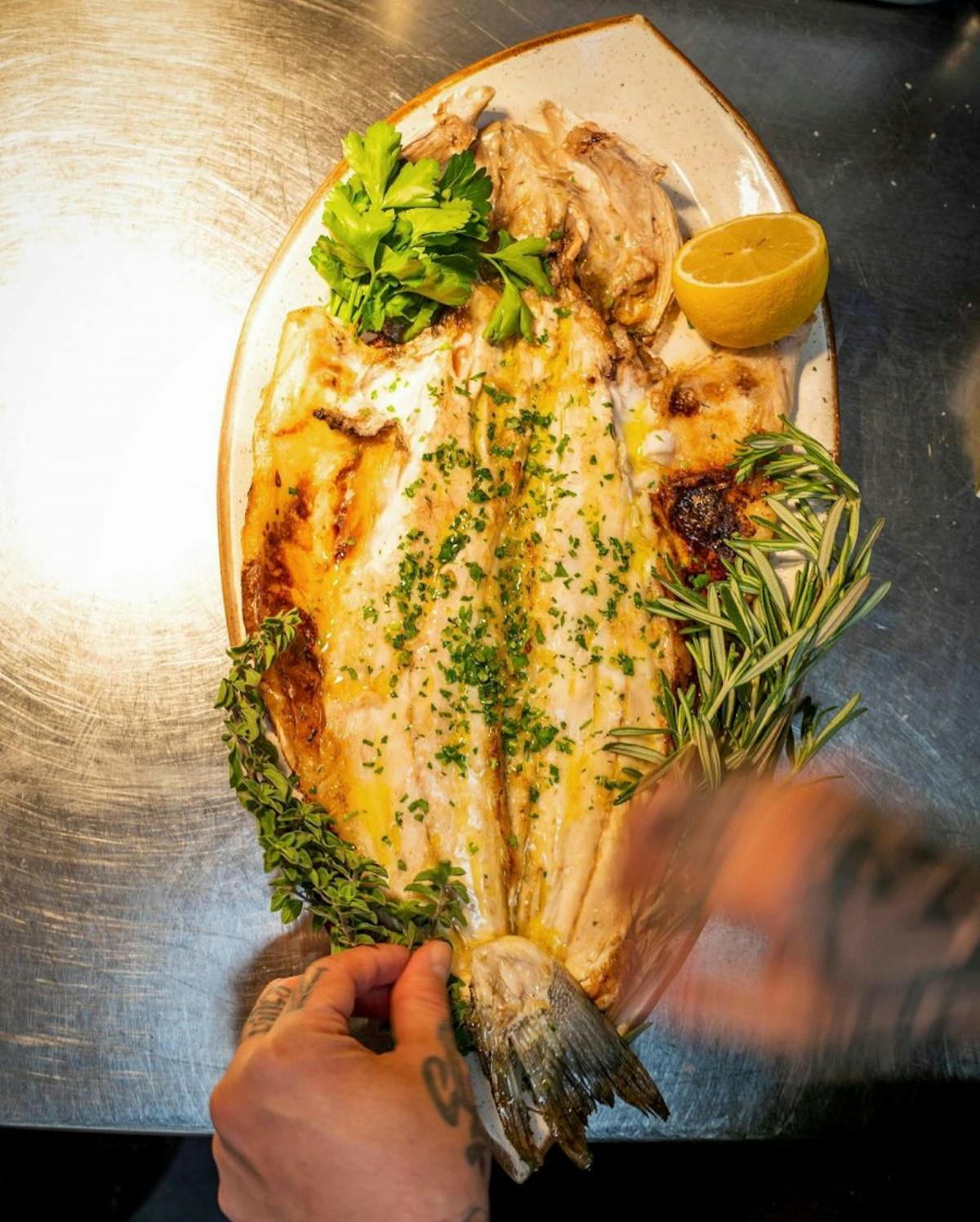 Sometimes you want something so fresh that you can see it being prepared right in front of you. And that's the vibe that we're going for with our Tableside Fish. We're sure that you've seen tableside guacamole, or a dessert cart, and tableside fish takes that very same idea to the next level. At Serea, we serve freshly caught whole fish, sourced local and responsibly, sold by the pound at market price. Our grilled fish is deboned tableside so let's call it dinner and a show! We can't tell you how the other Coronado restaurants do it, but our secret is wood grilling or flash frying the fish to perfection, but only before we bring it to your table and prepare it moments before you eat it. It doesn't get any fresher than this!
WHAT YOU NEED TO KNOW
what kind of fish are you serving?
Since we serve our seafood responsibly, locally, and sustainably, our catch of the day changes regularly. It's best to call ahead to know what we've got in stock for you.
what is the cost?
We charge market price for all tableside fish.
how is it prepared?:
We have two ways of preparing our tableside fish:
Wood Grilled – Grilled over an open fire, seasoned with olive oil, lemon, red wine vinegar & sea salt.
Flash Fried – Flash fried served with bagna tomato conserva, peppadew peppers & fresh lemon.
what is the recommended serving size?:
We recommend one pound per person. If you've got a big appetite, or want to share, then we suggest getting a pound of each of the daily catches and there will be plenty to go around.
what pound test do we need to catch the fish?:
Don't worry about catching the fish! We take care of all that business behind the scenes. All you have to worry about is showing up with an appetite for an unforgettable dinner. Serea is the Coronado restaurant that wants to give you dinner and a show, and what's a better show than us showing you how to serve your fish tableside!
are reservations required?:
Reservations are not required, but strongly recommended. Market fresh fish does not stay in our kitchen long! It's best to reserve a table for the peace of mind that comes with knowing that you secure a spot at the best seafood restaurant in San Diego.
WHAT ARE YOU WAITING FOR?
We can't think of a better companion to seaside dining than tableside fish. Summer is winding up, and now's the time to grab a seat and feel the coastal breeze as dinner is being brought to your table to enjoy with the sunset. While you're talking over dinner, feel free to enjoy a specialty cocktail, or a glass of wine. A seafood dinner with drinks and good company is never a bad choice, so what are you waiting for? We'll see you soon.
ABOUT SẼREA
Serẽa is proud to bring an exquisite sea-to-table dining experience to San Diego in a comfortable yet sophisticated setting.
Located just steps from the beach in the legendary Hotel del Coronado, the restaurant's key focus is the bounty of the sea. The menu focuses on sustainable seafood, with a coastal cuisine menu that spotlights the best of the region's oceans, farms and fields, ranging from the California Coast down to the Baja Peninsula.
Creative cuisine with a global flair is prepared by San Diego's own Chef Jojo Ruiz, who creates elegant, fresh dishes with just a hint of Mediterranean flair.
Find us on Facebook and Instagram!